Namaste India Pittsburgh Review
Address


Namaste India

3101 Banksville Rd
Pittsburgh, PA 15216
Ph: 412-563-1901

Hours:
Lunch - Tues - Fri 11:30AM to 2:30PM
Sat & Sun - 12:00PM to 2:30PM
Daily Dinner - 5:00PM to 10:00PM



More Pittsburgh Indian Restaurants
Namaste India Pittsburgh: Average Food; Excellent Samosa Chaat; Good Service
A nice Indian name and tasty vegetarian dishes are the highlights of Namaste India restaurant.
Located on Banksville Road (in the Banksville Plaza) in Pittsburgh adjacent to Kohli's Indian Grocery, Namaste India has been around for a while.
Tasty Baingan Barta
Baingan Barta (Eggplant cooked with chopped green pepper, tomatoes, onions and yogurt sauce) was well prepared and appealing to taste and behold. Believe us, the Eggplant melted in the mouth.
Mix it with rice or have it with Naan. Either way, you can't go wrong with Namaste's Baingan Barta.
Go for the delicately flavored Garlic Naan too as well as the fluffy Poori. We loved 'em both.
Fine Samosa Chaat
But the star of Namaste is its Samosa Chaat, a yummy medley of Samosa pieces, chickpeas, raw onion and Tamarind sauce.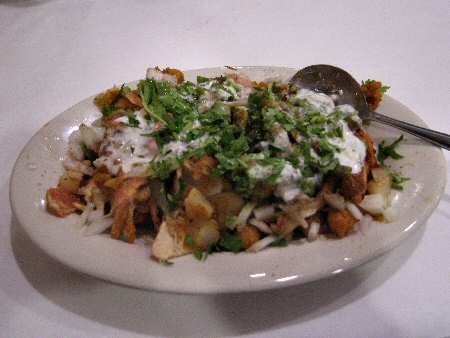 Chaat is favorite street food for millions of Indians back home and Namaste's Samosa Chaat ranks among the best.
Channa Masala and Mixed Vegetable Curry were not spectacular but gave no cause for complaints either.
Flavorless Vegetable Biryani
But Vegetable Biryani lacked any flavor and tasted as if plain vegetables had just been mixed into a bowl of hot rice and rushed out of the kitchen.
Disappointing Meat Dishes
Where Namaste falters is on the meat side.
Without exception, the various meat dishes we tried at Namaste were disappointing.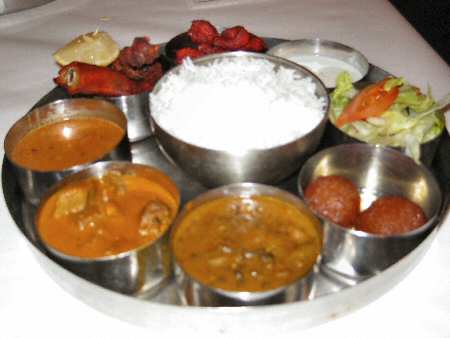 Lamb Curry (Boneless Lamb pieces cooked in onion curry sauce) came to our table way too salty, indicating gross negligence on the part of the restaurant's kitchen.
Chicken 65 and Tandoori Chicken were run of the mill preparations that did not have us yearning for more.
Good Service
What Namaste lacks by way of tasty Indian meat dishes, it more than amply compensates in the form of fine service. Namaste'ss manager Srinivas was very solicitous and made repeated inquiries about the food.
Upon noticing that we had finished our first plate of the complimentary Pappadums offered with zesty Mint and Tamarind Chutneys, he quickly placed a second plate before us.
Desserts were a mixed bag at Namaste. Rice Kheer was tasty, a rarity these days in Indian restaurants. But Gulab Jamun was a letdown and came cold to the table, as it invariably does at a lot of restaurants.
Beverages were a disappointment too. Our Madras Coffee had too much milk and was a pale imitation of real South Indian coffee. Masala Tea was just passable.
Namaste also serves South Indian dishes such as Idli, Dosa and Uttapam. - ©
PittsburghIndia.com