Pittsburgh Biryani Places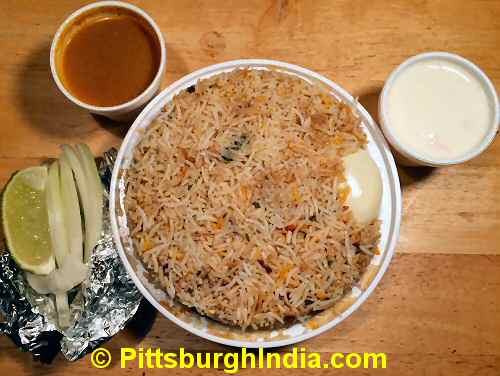 Lately,
Biryani
is the talk of Indian cuisine in the U.S..
From New Jersey, New York on the East Coast to California, Seattle on West Coast, Texas in South, Biryani places are cropping up like mushrooms.
And, Hyderabad Dum Biryani is the flavor of most Biryani places set up lately across the U.S.
Biryani in Pittsburgh
However, Pittsburgh offers limited choice when it comes to Hyderabadi Dum Biryani rice dish.
Most Pittsburgh Indian restaurants offer regular Biryani rice dish with the sole exception of Taj Mahal on McKnight Rd which includes dum Biryani on its online menu.
What is Biryani
Biryani is an aromatic, spicy dish usually prepared by cooking Basmati rice along with cloves, cinnamon, dry red chilli, bay leaves, ginger, garlic and other Indian spices.
Biryanis can be vegetarian or meat-based.
Biryani is usually served with gravy, raitha, a cut lime piece and onion slices on the side.
Hyderabadi Dum Biryani is spicier compared to the regular version and is cooked on a slow flame for several hours by covering with a tight lid.

Biryani Price
Biryani in Pittsburgh Indian restaurants is priced between $8.99 to 13.99 depending on the type - vegetable, chicken, beef, lamb, goat or shrimp.
And the price range goes down to $4.50 to $5.50 at Pittsburgh Indian food trucks depending on small or large plate.
Here's a short list of Indian restaurants offering Biryani in Pittsburgh:
Biryani Restaurant

4063 William Penn Hwy
Monroeville, PA 15146


Ph: 412-856-1105

Egg, Chicken, Lamb & Veg Biryani





Coriander India Grill

2201 Murray Ave
Pittsburgh, PA 15217


Ph: 412-904-3654

Veg, Chicken, Lamb, Goat & Shrimp Biryani





India on Wheels

Food Truck
4422 Bigelow Blvd
Pittsburgh, PA 15213


Ph: 412-378-6611

Chicken, Lamb, Shrimp & Veg Biryani

Mintt

3033 Banksville Rd
Pittsburgh, PA 15216


Ph: 412-306-1831

Chicken, Goat, Lamb, Shrimp, Egg & Veg Biryani


7795 McKnight Rd
Pittsburgh, PA 15237


Ph: 412-364-1760

Dum Chicken, Goat, Lamb, Shrimp, Beef & Veg Biryani




Taste of India

4320 Penn Avenue
Pittsburgh, PA 15224


Ph: 412-681-7700

Chicken, Lamb, Shrimp, Beef, Egg & Veg Biryani