Pittsburgh Indian Buffets
Pittsburgh Indian restaurants are big on buffets.
It's hard to find an Indian restaurant in Pittsburgh that does not offer at least a lunch buffet.
If you're new to Indian cuisine, buffets are a good way to explore Indian food since you get to sample a variety of items.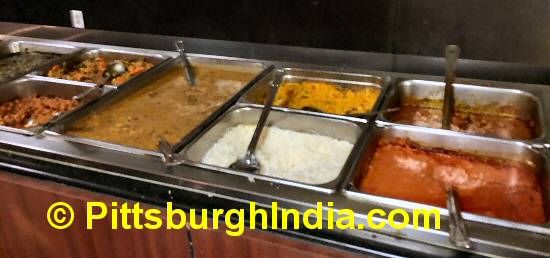 Whether it's Center City, Banksville Rd, Downtown Pittsburgh, Monroeville, Green Tree area or McKnight Rd you're sure to find an Indian restaurant that offers a sumptuous buffet.
Indian buffets cost around $8.99-$10.99 on week days and $12.99-$14.99 on weekends.
Pittsburgh Indian buffets come in a variety of forms: North Indian, South Indian, Vegetarian, Non-Vegetarian and Indian-Chinese.
If it's a Non-Vegetarian Indian buffet, Tandoori Chicken and Chicken Tikka Masala are bound to be fixtures. For Vegetarian Indian buffets, Rasam (soup) and Biryani are musts.
Here are a few Indian restaurants in Pittsburgh that offer a buffet:
7795 McKnight Rd
Pittsburgh, PA 15237


Ph: 412-364-1760

Lunch Buffet: - Mon-Fri $8.99 Sat-Sun $9.99
Dinner Buffet: Mon, Thu & Sat $11.99



Taste of India

4320 Penn Ave
Pittsburgh, PA 15224


Ph: 412-681-7700





Prince of India

3614 5th Ave
Pittsburgh, PA 15213


Ph: 412-687-0888





All India

315 North Craig St
Pittsburgh, PA 15213


Ph: 412-681-6600





Biryani Restaurant

4063 William Penn Hwy
Monroeville, PA 15146


Ph: 412-856-1105

Daily lunch buffet

Coriander India Grill

2201 Murray Ave
Pittsburgh, PA 15217


Ph: 412-904-3654





Indian Spices

129 6th St
Pittsburgh, PA 15222


Ph: 412-281-1364





The Mintt

3033 Banksville Rd
Pittsburgh, PA 15216


Ph: 412-306-1831





Peoples Restaurant

5147 Penn Ave
Pittsburgh, PA 15224


Ph: 412-661-3160





Namaste India

1150 Banksville Rd
Pittsburgh, PA 15216


Ph: 412-563-1901